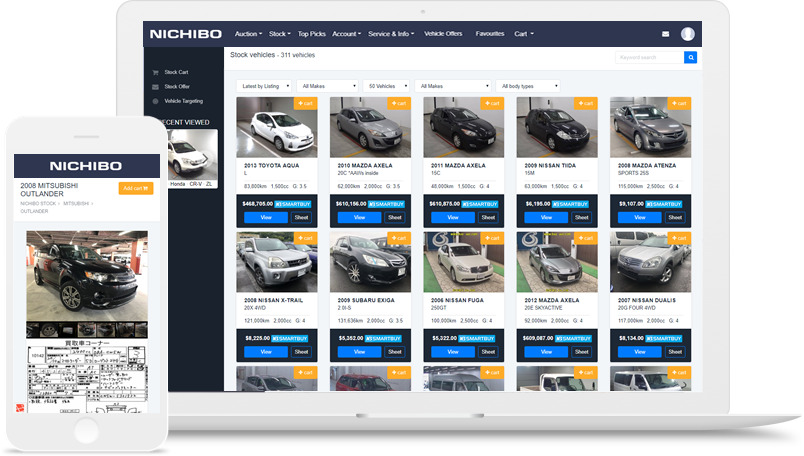 Exporting top quality Japanese used cars
Our revolutionary AutoSearch platform lets you access 100+ auction houses & 145,000+ vehicles per week allowing you to purchase from a large range of quality stock.

Our 20+ experienced buying team personally inspect each vehicle prior to purchase to ensure our high level of quality is maintained. We also certify every vehicle's odometer reading, do pre MAF vehicle inspections.
Accelerate your dealership forward with Nichibo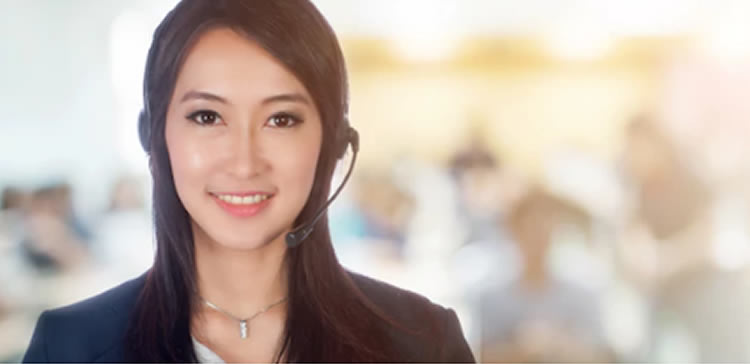 30 Years Experience
Since 1988 Nichibo has been leading the way with exporting vehicles from Japan. We have dedicated support staff and account managers in both Japan and New Zealand.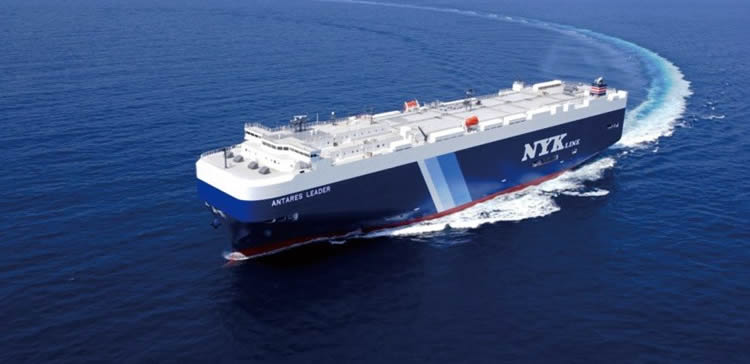 Quick & Fast Shipment
We provide and handle the complete process - shipping, Customs and MAF clearance, packing, transport, delivery and insurance.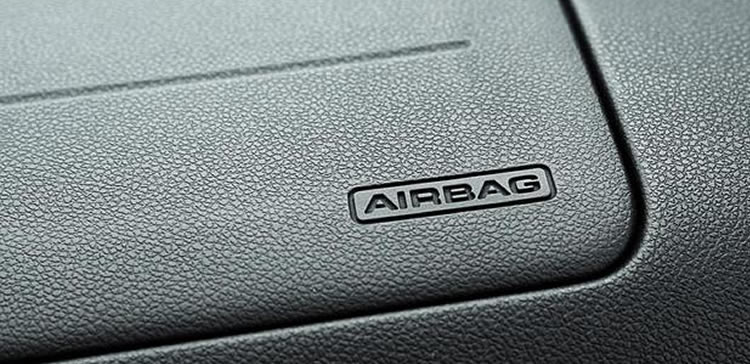 Odometer, MAF & Takata Airbag Inspections
We pre-check Takata airbags and if need be replace prior to shipment. We also arrange MAF Inspection and odometer checks.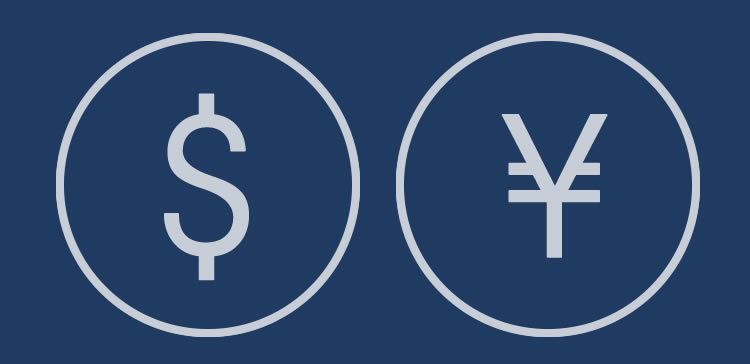 Easy Payment Process
We make things simple so you can buy in your chosen currency- FOB YEN, FOB NZD, CIF or fully complied fixed NZD pricing are all available.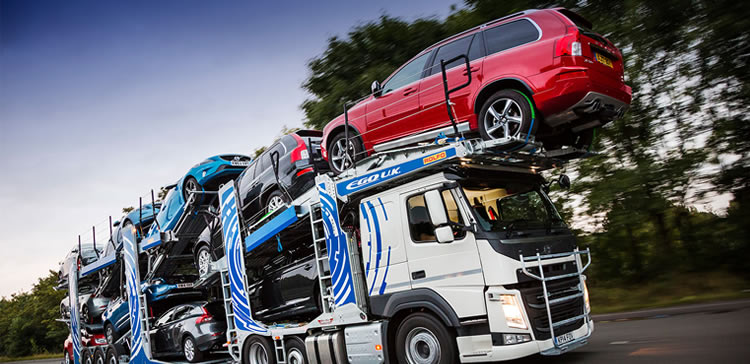 Door-to-Door Delivery
We can arrange delivery of your vehicles direct to your yard or compliance center - seamlessly over land and water we know what to do.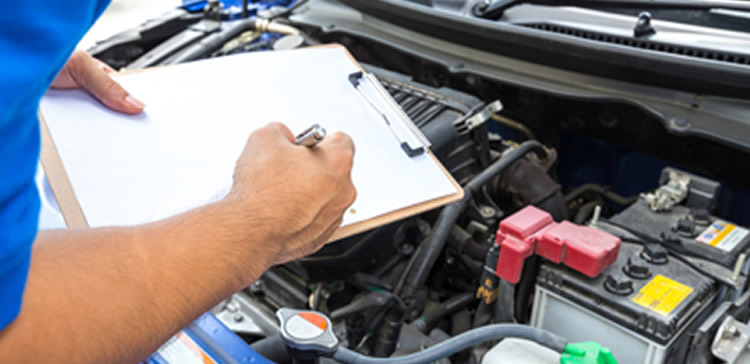 100% Inspected Vehicles
We careful inspect each and every car for quality assurance
Work while you're on the move with Nichibo's mobile app
Buy vehicles from anywhere with our mobile app for iOS or Android. It's easy to search auction vehicles, buy pre-purchased stock and check your account balance. So you can set up your dealership wherever you want.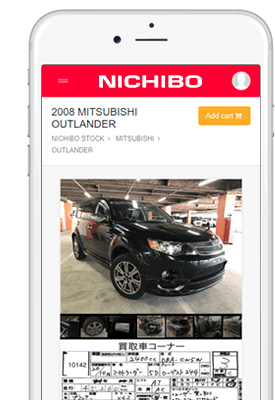 Simplified import process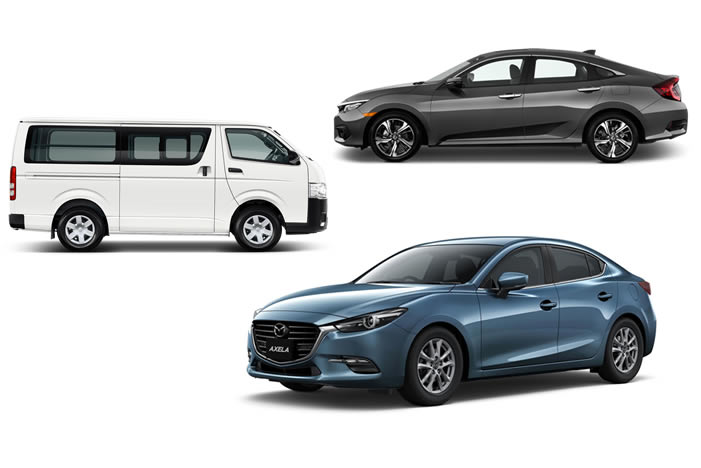 Buy online through AutoSearch

You can choose from over 500 pre-purchased vehicles, buy at auction (Monday-Saturday) or request our buying to source you a vehicle

We organise border checks and shipping

We handle it all, odometer, Takata Airbag checks, Customs and MAF clearance, packing, transport, delivery and insurance.

Delivery to your door

We will deliver your vehicles direct to your compliance center or yard
Improve your cashflow with our Floor Plan Facility
Utilize our floor plan facility and fund the vehicles purchased from Nichibo for up to 6 months
after shipment or upon retail sale, whichever comes first.
FIND OUT MORE
Frequently Asked Questions
How do I sign up for access?
You can sign up online here, we will contact you by return email if your application is successful and we will then assign you a username & password so that you can begin using our auction service. Please note that in New Zealand, we are a Licensed Motor Vehicle Dealer operation only.
How often are auctions held?
We run autoSearch auctions from Monday - Saturday.
Is your vehicle list in English?
Yes, the details of every vehicle displayed on our website have been translated into English. We provide detailed information such as grading, vehicle variant and vehicle options.
Do I need any special type of software to use your website?
All that is required is an internet connection and a web browser to begin using our website.
Do you provide recent auction results or market information?
Yes, you can find current Japanese market prices among previous results.
Can you help with sourcing a particular vehicle?
Yes, our staff attend many auction halls all over Japan some of which not included in our online auctions service, we can help you source specialist vehicles.
Can I view vehicle images & auction sheets?
Yes, you can view vehicle images & auction sheets of any vehicle you are interested in. The auction sheet provides good guide of any dents etc which may need repairing.
Does your online auction service provide vehicle compliance checks for NZ?
Our online auction which filters out many of the vehicles that would not comply in NZ. Some vehicles within this tender list may not comply in New Zealand so Our Buying Team in Japan will make a final inspection of the vehicle before placing a bid at the auction hall to ensure the vehicles chassis number will comply in NZ.